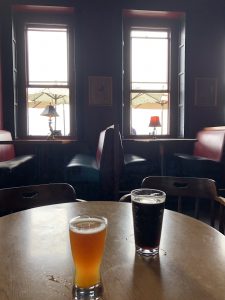 It started innocently enough, with our local sailmaker and friend Carol Hasse saying, "Oh, you MUST meet these two new friends of mine! You will absolutely LOVE them!" So she set up a blind date of sorts at our hometown pub: my husband, Jim, and me, with these two strangers Oscar and Bill, who were probably thinking, well this is different. Hasse said, "I'll be there to introduce you." And then she had to bail because of a sudden change in family plans, so we introduced ourselves.
Fast forward going on five years: we've been meeting every Saturday afternoon for the fine art of conversation with a small group of about six people who, if they had thought of it as a career, would've been humorists. They include a bookseller, a lawyer, a nurse, two biologists, a software developer, and occasional guest appearances by boat builders, magazine editors, and writers. All share a love for sailing and books. But it's the laughter that keeps us coming back, week after week. We even have our own regular table, a round one so small that everyone has to crowd in knee-to-knee, but that's how you can hear each other and maintain a conversation with the entire group when the pub gets noisy. We don't use prompts because someone always starts with an interesting story, and it's amazing the material you can mine from a life you might otherwise think is not extraordinary.
We know the pub's staff, and its owner, who all greet us by name. (Yeah I know, echoes of Cheers here, but it's true!) Five years of puns, jokes, laughter and conversations about books, food, music, travel, pets, the comedic aspects of religion, and other humor threads that become wild rides into hilarity. The wit has echoes of the Algonquin Round Table, with occasional doses of the Three Stooges. Though there are no rules or prohibited topics, politics rarely enter, because politics can be a buzzkill these days, and besides, there are so many fun things to explore. The pub has become such a weekly home that Jim and I, after ten years of being together, actually got married there one December afternoon, with 40 sailing friends witnessing. Instead of a sermon, the officiant, who was no slouch in the humor department either, read from "The Book of Getting Spliced," which of course we wrote with the help of a few friends.
Defining home and sense of place is like trying to define life itself; it's where you start from and return to; it's what you discover, talk about. Upon reflection it can be endlessly interesting but also ineffable, a collage of favorite places, but also of favorite people. A mix of sights, sounds, smells, tastes and feelings, the starting place for dreams, the dwelling place for memories. A shelter, a town, a region. A forest, an ocean. A planet. A writing group, or a book club. A place where a neighbor stops by and says, "Hey, come on over and pick some zucchini, green beans and blackberries," and then proceeds to give you a recipe for blackberry pie. (This happened just now, as I was writing this essay; at first, because his recipe was long and involved and led to other discussion topics, I was growing impatient to get back to writing so as not to lose my train of thought, but then I smiled and realized, HA! This too is exactly what home means.)
Home can also be an ache, especially when you miss it. Or when you don't really have one.
It can be a place that's a little too small to hold all your friends, but a place where you cherish them anyway, right now, in the moment. Home can be anywhere, it can be what you make it, but there's no place like it.
What are your thoughts about home?